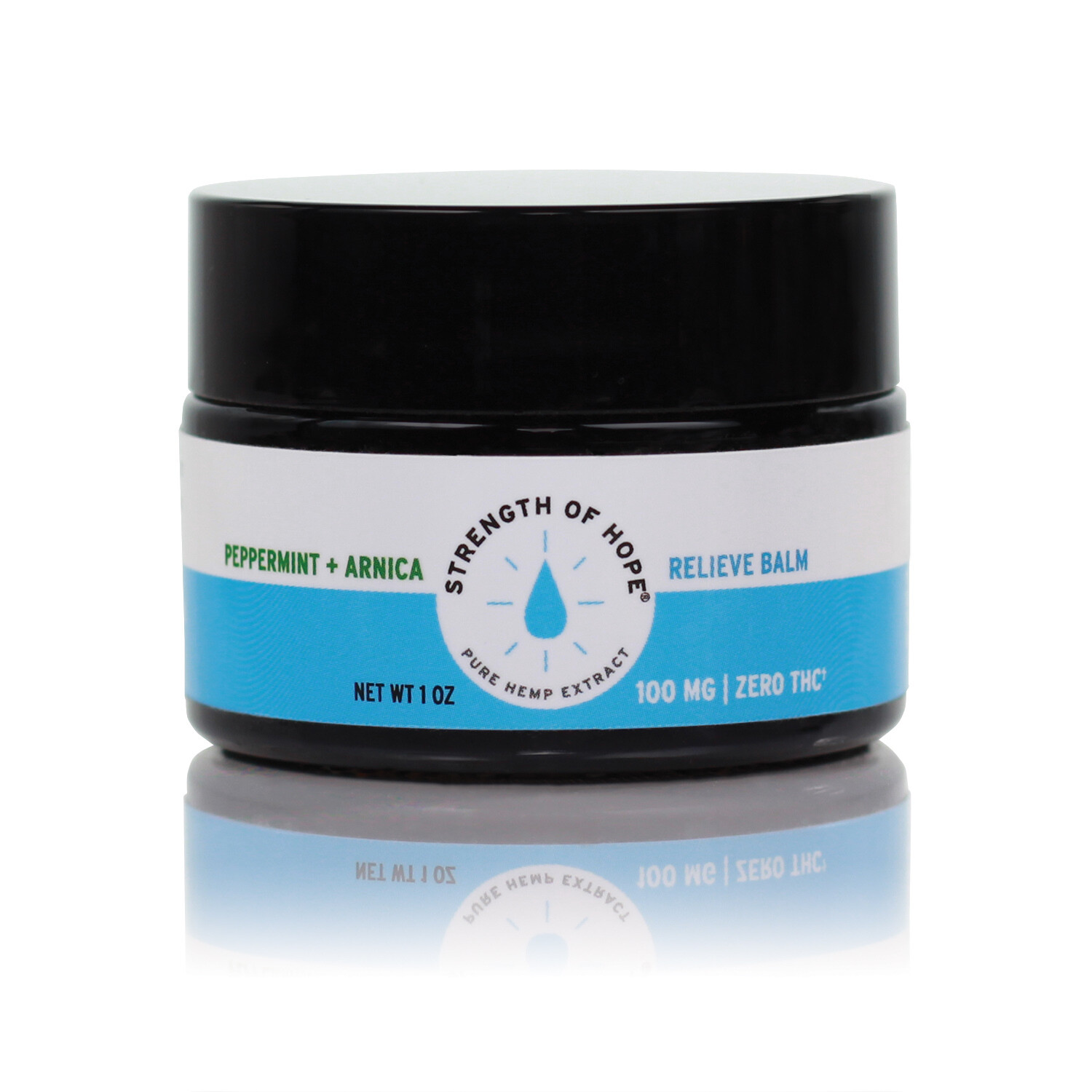 CBD Balm
SKU EB-PM010
There are thousands of CBD products available to help relieve pain, but there is only one to swear by: Strength of Hope CBD balm
Product Details
CBD Balm
There are thousands of CBD products available to help relieve pain, but there is only one to swear by - CBD balm by Strength of Hope.
Whether you're an athlete or only visit the gym a few times a year, you've likely experienced pain and soreness. Even lifting small children all day or sitting at a desk for too long can cause stiff muscles.
But no matter what the source of your pain is, Strength of Hope CBD balm can help. Our emollient CBD balms are a treat for the senses. A mild aroma of incredible fragrance softens and relaxes joints and muscles as it absorbs into the skin.
Each 1 oz container of our CBD balm expertly blends 100 mg, 250 mg, or 500 mg of CBD with essential oils to address discomfort and tension in areas of the body that require the most attention.
That means our customers benefit from the power of hemp-derived CBD. Meanwhile, our CBD balms' effects can last up to six hours, so you can get on with your day or relax into your night.
Find out what everyone's talking about; try Strength of Hope CBD balm for yourself today!
Premium cannabidiol (CBD) in every batch.
Safe CBD extraction techniques for wholesome hemp properties.
Exclusive THC-free products sourced from naturally grown hemp.
Third-party lab-tested to ensure purity and peace of mind.
Usage Instructions
Apply to affected area and rub in well by hand. Wait 15 minutes and repeat. If needed wait an additional 30 to 45 minutes and apply a third time as needed. Repeat as needed. The Balm, when applied as directed, can last up to 6 hours.
Users report the following benefits from our Balm:
Targeted/topical relief
Muscle and joint tenderness and discomfort
Sleep
Skin hydration
Any content, views, opinions and/or responses uploaded, expressed or submitted by the creators, sponsors, advertisers or users of this website, are solely the views opinions and the responsibility of the person submitting them and do not necessarily reflect the opinions of Strength of Hope. Learn more
We always recommend customers consult their health care professional before use.
These statements have not been evaluated by the Food and Drug Administration. This product is not intended to diagnose, treat, cure or prevent any disease.
This product contains a total delta-9- tetrahydrocannabinol concentration not exceeding 0.3 percent on a dry-weight basis.
Warning: The FDA does not recommend hemp extract products for use while pregnant; YOU MUST CONSULT YOUR PHYSICIAN BEFORE USING THESE PRODUCTS IF YOU ARE PREGNANT.
Ingredients
100mg Peppermint + Arnica Balm: Coconut Oil, Beeswax, Shea Olein, Hemp Extract, Arnica, Peppermint, Vitamin E
250mg Peppermint Balm: Coconut Oil, Beeswax, Shea Olein, Hemp Extract, Peppermint, Vitamin E
250mg Lavender + Tea Tree Balm: Coconut Oil, Beeswax, Shea Olein, Hemp Extract, Lavender, Tea Tree, Vitamin E
500mg Peppermint Balm: Coconut Oil, Beeswax, Shea Olein, Hemp Extract, Peppermint, Vitamin E
[endtab]
Save this product for later