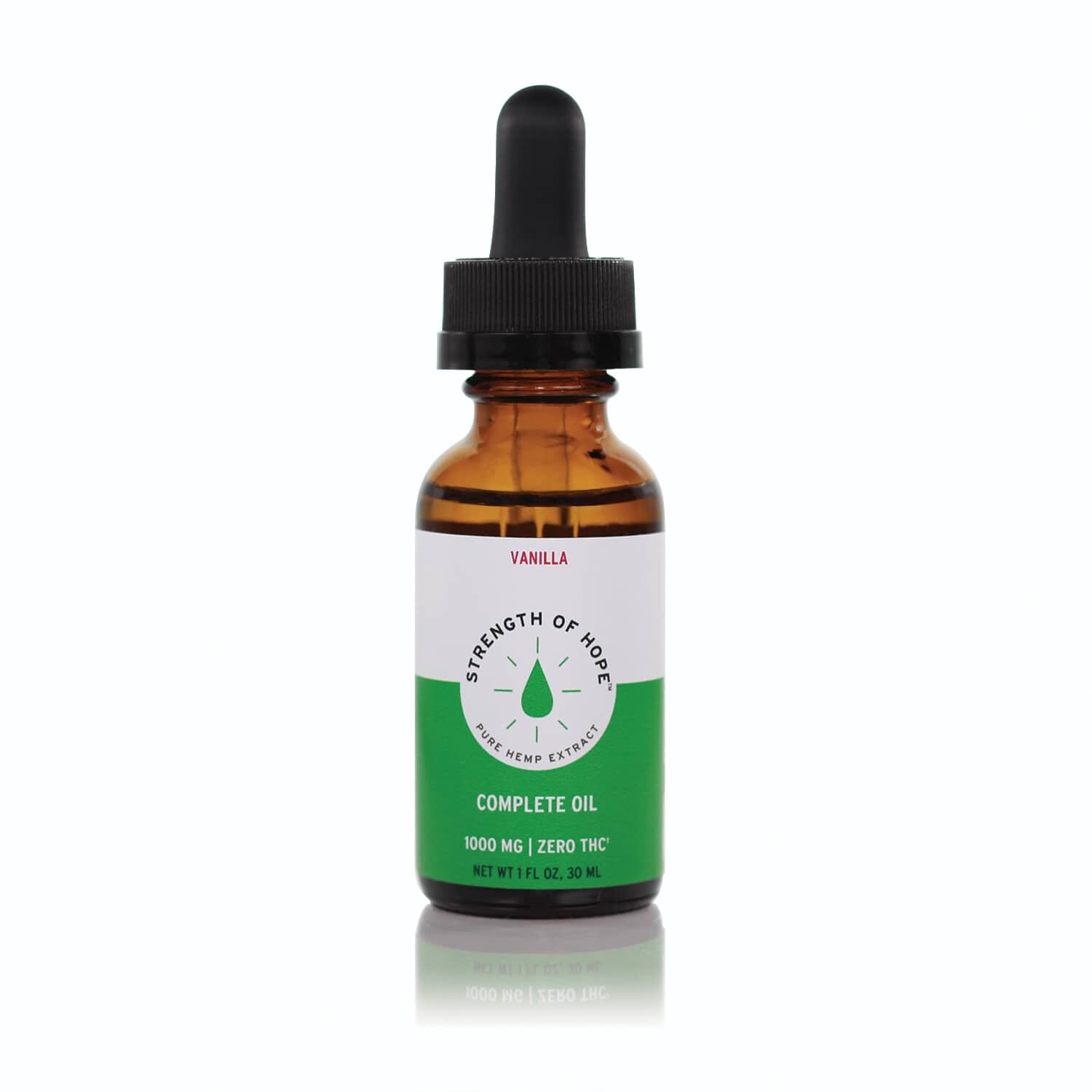 CBD Oil
SKU OT-SV100
A little goes a long way, and microdosing with CBD Oil is a proactive way to find relief while reducing tension and stress!
Product Details
Oil Tinctures
Say goodbye to pain and discomfort, and hello to the healing power of Strength of Hope CBD oil!
Our most popular product, Strength of Hope's CBD Oil, comes in three different strengths: 500 mg, 1000 mg, or 2500 mg of CBD. It's pure, safe, and easy to use. Additionally, our CBD oil tincture contains 60 mighty doses to take day or night.
Our tinctures are an excellent way for beginners to experiment with the benefits of CBD oil. Therefore, we crafted them with your enjoyment in mind. MCT coconut oil boosts bioavailability and absorption, while delicious natural Vanilla/Stevia flavoring pairs well with many beverages, including smoothies and protein shakes.
What makes Strength of Hope CBD Oil different from the rest? We specially formulate our tincture using CBD oil and natural, essential ingredients. That means our customers benefit from the healing power of cannabidiol (CBD) without any THC. Lastly, to ensure what's on the box is what you'll find inside, our products are third-party lab tested.
A little goes a long way, and microdosing CBD oil is a proactive way to find relief while reducing tension and stress. Take control of your overall well-being with Strength of Hope CBD oil today.
Premium natural cannabidiol (CBD) in every batch.
Safe CBD extraction techniques for wholesome hemp properties.
Exclusive THC-free products sourced from naturally grown hemp.
Third-party lab-tested to ensure purity and peace of mind.
Usage Instructions
Tinctures are an excellent way to effectively support the whole body. Our tinctures are designed to be taken morning and/or night for many uses, as the effects vary and are dependent on dose and bodily composition. Our customers report they use our tinctures for the following:
Focus and energy
Relaxation and sleep
Mood and general sense of well-being
Day-to-day stress
Muscle and joint discomfort
Any content, views, opinions and/or responses uploaded, expressed or submitted by the creators, sponsors, advertisers or users of this website, are solely the views opinions and the responsibility of the person submitting them and do not necessarily reflect the opinions of Strength of Hope. Learn more
How to take the Oil Drops:
First, squeeze the dropper and measure the correct dosage into the dropper.
Squeeze the oil under the tongue.
Hold there for 60 to 90 seconds and then swallow. It's important to allow the oil to absorb under the tongue before swallowing. When the oil goes into the stomach, much of the effect is neutralized.
It may seem a little weird at first, but this is the best way to receive the most benefit.
DOSAGE:
Every Person is different and may require a different dosage.
We always recommend to start slow. Begin with a low dosage and try it for a week or so and increase gradually as necessary. Take 2-3 times daily during or after meals.
Low – 1/4 dropper
Medium – 1/2 dropper
High – 1 dropper
We always recommend the customer consult their health care professional before use.
These statements have not been evaluated by the Food and Drug Administration. They are not meant to diagnose, treat, cure or prevent any disease.
This product contains a total delta-9- tetrahydrocannabinol concentration not exceeding 0.3 percent on a dry-weight basis.
Warning: The FDA does not recommend hemp extract products for use while pregnant; YOU MUST CONSULT YOUR PHYSICIAN BEFORE USING THESE PRODUCTS IF YOU ARE PREGNANT.
Ingredients
500mg Oil Tincture: MCT Coconut Oil, Hemp Extract, Vanilla/Stevia
1000mg Oil Tincture: MCT Coconut Oil, Hemp Extract, Vanilla/Stevia
2500mg Oil Tincture: MCT Coconut Oil, Hemp Extract, Vanilla/Stevia
[endtab]
Save this product for later