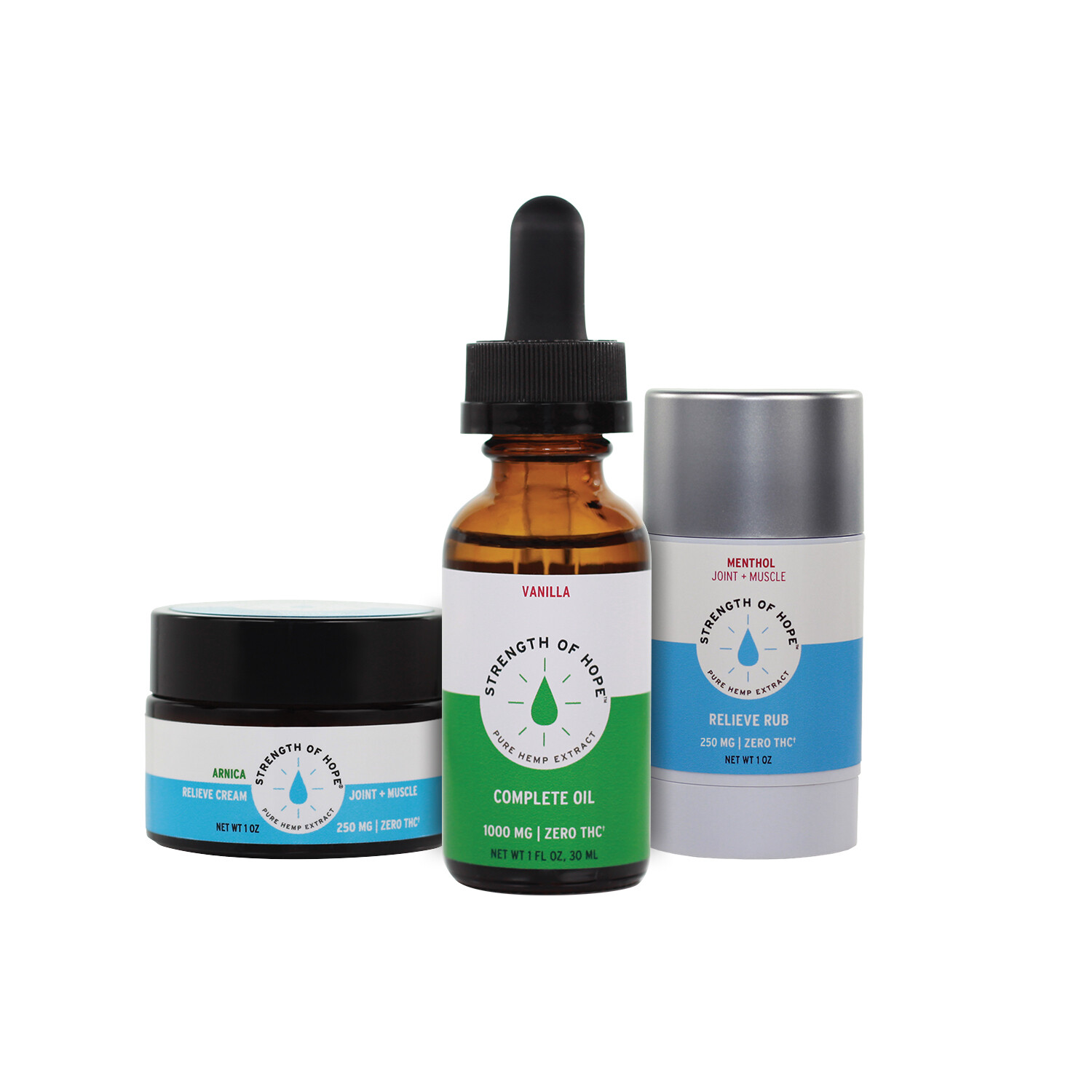 CBD Pre Workout Bundle
SKU 00022
Our CBD Pre Workout Bundle includes our phenomenal 1000mg CBD Oil Tincture, 250mg CBD Muscle Rub & 250mg CBD Arnica Cream!
Product Details
Bundle Includes:
1000mg CBD Oil Tincture
100mg CBD Muscle Rub with Menthol
250mg CBD Arnica Cream
Regular Price: $99.97
Total Savings: $14.98
CBD Pre Workout Bundle
Most people (even the best athletes) experience aches, pains and muscle tenderness following workouts, or even just activity-filled days working in the yard, cleaning the house or working on a little home improvement project. CBD is a wonderful recovery balancer when our bodies experience strain and stress due to over-exertion from workouts or any physical activity. And, if CBD is used before exercise, it can give the body support to diminish post-workout discomfort.
Strength of Hope 1000 mg CBD Oil Tincture
This go-to supplement for physical exercise is an excellent choice pre and post workout. Taking a dropper in the morning and evening on a daily basis to maintain balance in your body's endocannabinoid system supports a healthy body and helps reduce the tenderness after straining muscles and joints.
Strength of Hope 250 CBD Muscle Rub
When you need help finding physical forgiveness from lifting heavy boxes, hiking a new trail or over-exertion at the gym, our CBD Rub is the right choice. The Rub is easy to apply to those hard to reach areas on the shoulders and upper or lower back. The hot and cold sensation of Menthol combined with our CBD have a powerful impact on workout recovery so you can get on with your active day or enjoy a restful night.
Strength of Hope 250 mg CBD Arnica Cream
Our CBD Arnica Cream is powered with 250 mg of CBD blended with Shea Olein, Coconut Oil, Cocoa Butter, Menthol, Arnica, Peppermint, and Tea Tree. Trust us -- these ingredients were made to work together to quiet tender muscles and soothe your hard-working body. It smells lovely, spreads smoothly, and targets muscle and joint soreness specifically.
Don't be surprised when you reach for this cream time and time again!
Our Strength of Hope CBD Pre Workout Bundle is priced to give active enthusiasts, and weekend warriors an affordable opportunity to experience the relief of CBD as part of your workout routine.
Are you ready to dive into our world of excellent CBD relief and recovery products?
This CBD 3-pack also makes a wonderful, highly useful gift!
More Information
What makes Strength of Hope CBD Oil different from the rest?
We specially formulate all of our Strength of Hope products with pure CBD and natural essential ingredients.
We include premium natural Hemp-derived cannabidiol (CBD) in every product.
We utilize safe CBD extraction techniques for wholesome hemp properties.
Our products are exclusively THC-free with absolutely zero THC.
Each product batch is third-party lab-tested to ensure purity and peace of mind, knowing that what's stated on the product is what you'll find inside each bottle.We always recommend customers consult a health care professional before use.
These statements have not been evaluated by the Food and Drug Administration. They are not meant to diagnose, treat, cure or prevent any disease. This product contains a total delta-9- tetrahydrocannabinol concentration not exceeding 0.3 percent on a dry-weight basis. Warning: The FDA does not recommend hemp extract products for use while pregnant; YOU MUST CONSULT YOUR PHYSICIAN BEFORE USING THESE PRODUCTS IF YOU ARE PREGNANT.
[endtab]
Save this product for later