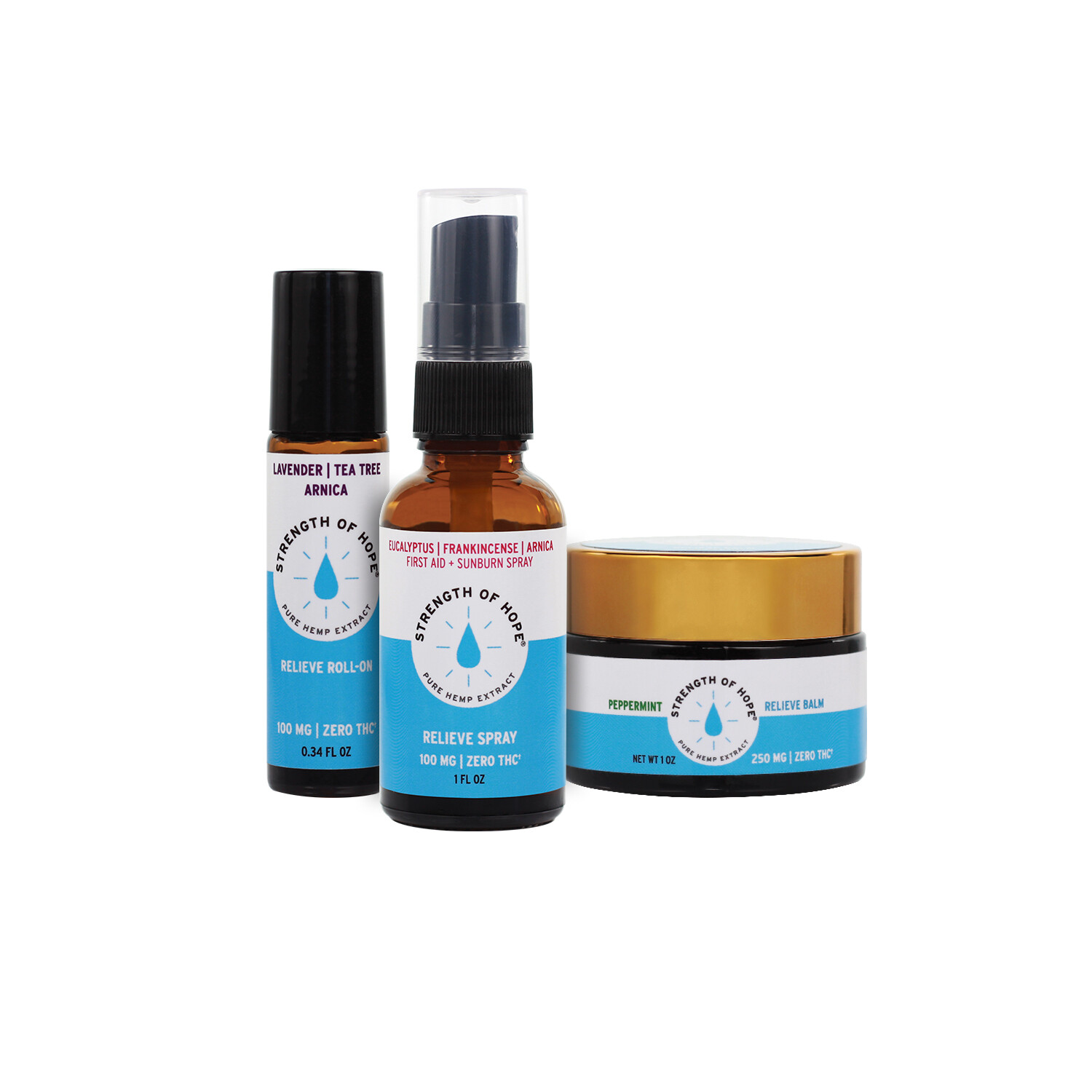 CBD Skin Care Benefits Bundle
SKU 000021
Our CBD Skin Care Benefits Bundle includes our incredible 250mg CBD Balm, 100mg CBD Relieve Spray & 100mg CBD Roll-On!
Product Details
Bundle Includes:
250mg CBD Peppermint or Lavender + Tea Tree Balm
100mg CBD Relieve Spray
100mg CBD Arnica + Lavender Roll-On
Regular Price: $67.97
Total Savings: $7.98
CBD Skin Care Benefits Bundle
Thinking about trying CBD? Know someone who would benefit from CBD, but doesn't know where to begin? Strength of Hope created this CBD Skin Care Benefits Bundle to give new-comers to CBD an affordable opportunity to experience the results of CBD. This package includes 3 CBD topical products that can have wonderful results for those most concerned with pain and discomfort.
250mg CBD Peppermint or Lavender Tea Tree Balm
Our first product in the package is one of our most popular. Boosted with essential oils that calm tender joints and muscles. This balm is available in Lavender/Tea Tree or Peppermint. Our customers like this balm because it is highly effective and can be applied to aching feet, sore or "jumpy" legs, back and shoulder aches, and joint soreness in hands, knees and elbows.
Strength of Hope 100 mg CBD Relieve Spray
This CBD Spray is formulated with our favorite essential oils, making it a multi-functional CBD Relieve Spray. In addition to CBD, we include Lavender, Peppermint, Geranium, Eucalyptus, Frankincense, and Arnica. This no-touch soothing spray is great for first aid, insect bites, and sunburn and minor burns.
This spray can also dissolve discomfort, aches and tenderness in joints and muscles and makes an amazing massage spray oil.
Strength of Hope 100 mg CBD Arnica + Lavender Roll-On
This little power-packed roll-on is highly concentrated to absorb quickly and render highly targeted relief for joints and soreness in areas needing extra-impact on feet and hands, elbows and wrists. The CBD, arnica and lavender can work wonders if applied to temples, forehead and the back of the neck to relieve stressors and tension. And, this is an on-the-go, easy to use roll-on that can be tossed in a purse, gym bag or even keep in a car glovebox.
Our Strength of Hope CBD Skin Care Benefits Bundle is priced to give those wanting flexibility, easy to use CBD for a great variety of everyday needs all at one single discounted price!
Are you ready for relief?
This CBD 3-pack also makes a wonderful, highly useful gift!
More Information
What makes Strength of Hope CBD Oil different from the rest?
We specially formulate all of our Strength of Hope products with pure CBD and natural essential ingredients.
We include premium natural Hemp-derived cannabidiol (CBD) in every product.
We utilize safe CBD extraction techniques for wholesome hemp properties.
Our products are exclusively THC-free with absolutely zero THC.
Each product batch is third-party lab-tested to ensure purity and peace of mind, knowing that what's stated on the product is what you'll find inside each bottle.We always recommend customers consult a health care professional before use.
These statements have not been evaluated by the Food and Drug Administration. They are not meant to diagnose, treat, cure or prevent any disease.This product contains a total delta-9- tetrahydrocannabinol concentration not exceeding 0.3 percent on a dry-weight basis. Warning: The FDA does not recommend hemp extract products for use while pregnant; YOU MUST CONSULT YOUR PHYSICIAN BEFORE USING THESE PRODUCTS IF YOU ARE PREGNANT.
[endtab]
Save this product for later