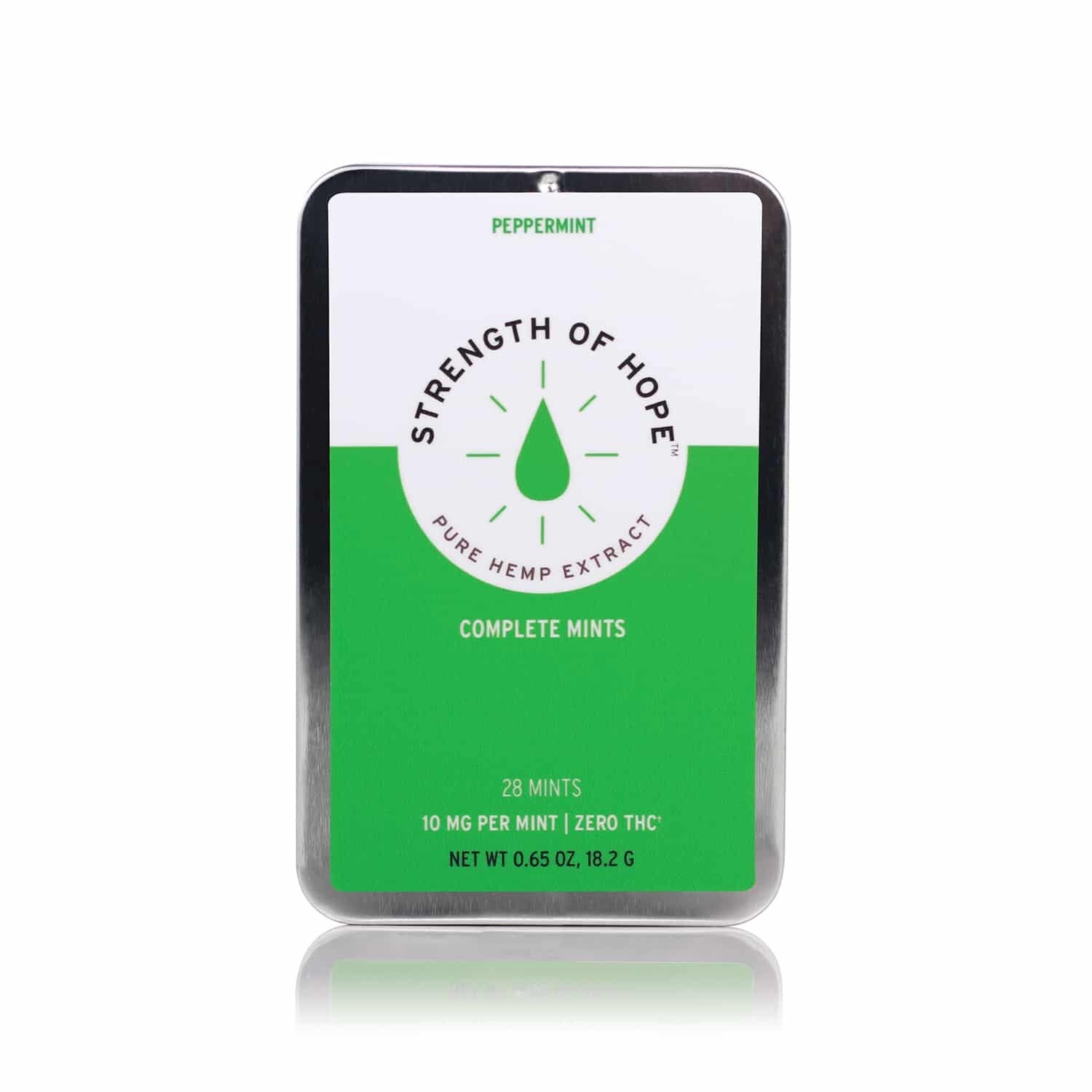 Mints
SKU MT-PM028
Product Details
Mints
Our natural hemp extract mints are the best way for the hemp extract to have a complete, whole body effect. For those with a fast-paced career or lifestyle, our high quality hemp extract mints are a godsend. Discreet and highly portable, each mint contains 10mg hemp extract with Zero THC, making dosing simple to measure and repeat. These delicious meltaways freshen breath and soothe nerves. Strength of Hope's mints come in a handy tin to take along in your purse, or even slip into your glove compartment for those times when you need to refresh your day.
Usage Instructions
Take one mint and allow it to dissolve slowly and completely in the mouth.
For maximum activation potential, try to avoid chewing and swallowing the mint. Just allow the mint to slowly dissolve on your tongue for maximum absorption.
DOSAGE: Every Person is different and may require a different dosage.
We always recommend you start slow. Take 2-3 times daily after meals. Tins come in 28-count 280 mg tins, at 10mg hemp extract per mint.
1 mint – 10 mg. Begin with a single mint up to 3 times a day.
2-3 mints – 20-30mg. Add additional mints 1 at a time to dosage if after a week additional hemp extract is needed to reach the desired effect.
Our customers report they use our mints for the following:
Focus and energy
Relaxation and sleep
Mood and general sense of well-being
Day-to-day stress
Muscle and joint discomfort
Any content, views, opinions and/or responses uploaded, expressed or submitted by the creators, sponsors, advertisers or users of this website, are solely the views opinions and the responsibility of the person submitting them and do not necessarily reflect the opinions of Strength of Hope. Learn more
We always recommend customers consult a health care professional before use.
These statements have not been evaluated by the Food and Drug Administration. They are not meant to diagnose, treat, cure or prevent any disease.
This product contains a total delta-9- tetrahydrocannabinol concentration not exceeding 0.3 percent on a dry-weight basis.
Warning: The FDA does not recommend hemp extract products for use while pregnant; YOU MUST CONSULT YOUR PHYSICIAN BEFORE USING THESE PRODUCTS IF YOU ARE PREGNANT.
Ingredients
Peppermint Mints: Dextrose, Stearic Acid, Peppermint,
[endtab]
Save this product for later