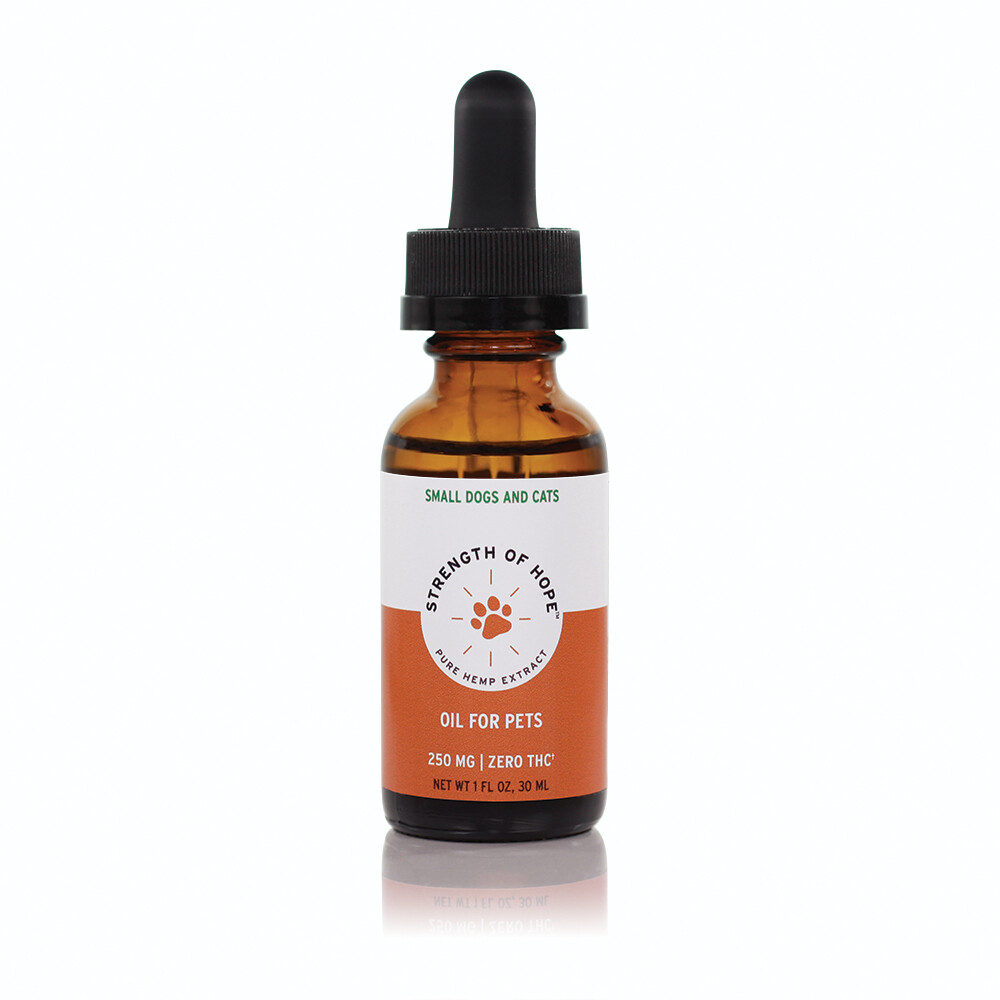 Pet CBD Oil
SKU PT-SV025
Our Pet CBD Oil is the perfect addition to your pet's care regime to keep your fur-babies healthy and free of discomfort!
Product Details
CBD Pet Oil Tinctures
We love our pets like family members, so why not treat them like one? Most pet-parents would go to any length to keep their furry friends healthy and free of discomfort. So it comes as no surprise that many pet owners are considering the healing benefits of specially formulated pet CBD for their companions.
Strength of Hope pet CBD oil is the perfect addition to your pet's self-care regime. We made our pet CBD oil with only high-quality hemp-derived CBD oil, combined with MCT coconut oil and delicious Vanilla/Stevia flavoring in various strengths.
Each pet CBD oil tincture comes in an easy-to-use 1 oz bottle blended with 250 mg or 500 mg pure CBD. Therefore, your pet receives a safe, whole-body effect and all the benefits of hemp-derived CBD without any THC (which can be toxic for pets!)
When you shop with Strength of Hope, you can rest assured knowing that we only use premium cannabidiol and a high-quality CBD manufacturing process for wholesome hemp qualities. Additionally, all of our products are third-party lab tested to ensure safety and effectiveness.
Strength of Hope's pet CBD oil use cases:
To keep pets playing
Relaxation and sleep
Mood and a general sense of well-being
Separation insecurity
Muscle and joint discomfort
Love your pets like family and give them pet CBD oil by Strength of Hope!
Premium natural cannabidiol (CBD) in every batch.
Safe CBD extraction techniques for wholesome hemp properties.
Exclusive THC-free products sourced from naturally grown hemp.
Third-party lab-tested to ensure purity and peace of mind.
Usage Instructions
How to administer the Oil Drops:
First, squeeze the dropper and measure the correct dosage into the dropper.
Place the entire dropper amount into the pet's mouth or drop/mix into the pet's food.
DOSAGE:
250 mg bottle best suited for dogs and cats weighing 1 lbs to 40 lbs.

500 mg bottle best suited for dogs and cats weighing 30 lbs to 100+ lbs.
Shake well before each use. Approximate amount based on pet weight. Amount may vary. Start with the lowest dose per 10 pounds and adjust as necessary.
Low – 1/10 ml (appx. 10% of dropper)
Medium – 1/6 ml (appx. 17% of dropper)
High – 1/4 ml (appx. 25% of dropper)
Any content, views, opinions and/or responses uploaded, expressed or submitted by the creators, sponsors, advertisers or users of this website, are solely the views opinions and the responsibility of the person submitting them and do not necessarily reflect the opinions of Strength of Hope. Learn more
We always recommend the customer consult their pet care professional before use.
These statements have not been evaluated by the Food and Drug Administration. They are not meant to diagnose, treat, cure or prevent any disease.
This product contains a total delta-9- tetrahydrocannabinol concentration not exceeding 0.3 percent on a dry-weight basis.
Warning: The FDA does not recommend hemp extract products for use while pregnant; YOU MUST CONSULT YOUR PHYSICIAN BEFORE USING THESE PRODUCTS IF YOU ARE PREGNANT.
Ingredients
500mg Pet Oil Tincture: MCT Coconut Oil, Hemp Extract, Vanilla/Stevia.

500mg Pet Oil Tincture: MCT Coconut Oil, Hemp Extract, Vanilla/Stevia.
[endtab]
Save this product for later